Add a Custom Screen Enclosure to Your Home in Denver, CO, or a Nearby Community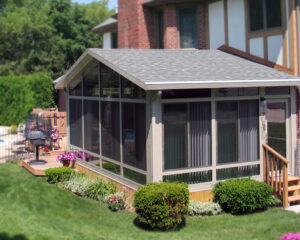 For a durable, custom-built screen enclosure, residents of Denver, Colorado, and surrounding areas can confidently turn to the trusted professionals at High West Siding & Windows. We have been in business since 1996, and we have the knowledge and experience necessary to give you the outdoor living area you've always wanted. Our manufacturer-certified installers are well trained in industry-best practices, and we use only the most durable, high-performing materials to ensure the longevity and beauty of our outdoor living products.
High West is proud to be an authorized dealer and installer of TEMO screen enclosure products for the Denver, CO, area. They are highly respected throughout the industry because of the top-notch quality of their outdoor living products. Their screen rooms boast such impressive features as:
An extruded aluminum frame – With the excessive UV exposure and constant freeze-thaw cycles we experience in the area, this durable construction is a must.
A maintenance-free powder coating – You won't have to sand or repaint your screen room to keep it looking great.
A completely custom design – Your screen room will be customized to fit the exact dimensions of your home and it comes in a variety of colors.
Furthermore, our screen enclosure products are backed by a comprehensive warranty. This protection plan includes coverage for both material and labor and is supported by the manufacturer.
If you decide to have a screen enclosure installed at your Denver, CO, area home, make the right choice and contact High West Siding & Windows today.