Premium Steel Siding
Each TruCedar Steel Siding profile is enveloped in a G60 zinc coating that provides both a physical barrier and cathodic protection. This prevents moisture and oxygen from reaching the steel core making TruCedar "Stronger Than Steel."
Out Performs vinyl siding and fiber cement
TruCedar Steel Siding protects your home better than vinyl siding or fiber cement. When comparing the lifespan of our kynar blend coated steel with plastic vinyl or pressed fiberboard – steel wins every time.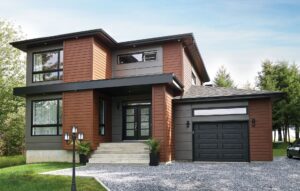 More Energy Efficient
TruCedar Steel Siding's SunMaster50™ paint system has the ability to reflect solar radiation, which has the potential to save you money on your energy bills. This reflective ability is made possible by infusing our solid and HD woodgrain paint with a PVDF coating which can provide for a cooler sidewall.
TruCedar® Steel Siding Colors
10 HD Woodgrains & 13 Solids
From HD Woodgrains to Solid colors, there is sure to be a TruCedar Steel Siding color choice that will work for your project. Weathered Wood all the way to Cottage Red, Traditional & Contemporary, TruCedar has you covered.