The Great Outdoors, Tamed:
Solutions For Your Home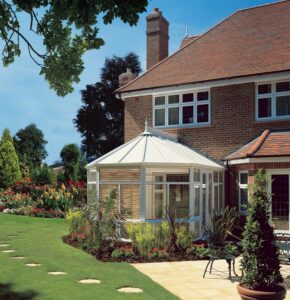 Everyone in Colorado can agree that the natural beauty of this state is one of the key reasons we all live here. So why not bring more of that natural beauty into daily life and incorporate outdoor living solutions right into your home space? Even if you don't know a patio from a pergola, we guarantee that the right outdoor space will strike your fancy, fit your style and enrich your life. Here are a few ways to enhance outdoor living space and make the most of Mother Nature, no matter what her mood is.
Bask in a sunroom.
Perhaps you are more the type to gaze upon nature without giving up certain indoor creature comforts. If that's the case, a sunroom is a perfect solution for your home. Sunrooms have a bevy of benefits, from adding value to the property to creating space for a variety of purposes: home offices, playrooms and art studios, to name just a few. Whether you choose a three-season sunroom to enjoy in milder months or a four season sunroom to enjoy year-round, it's likely that this will become everyone's favorite room in the house.
Host friends on a patio.
Lunches and dinners under the sun and the stars are always a treat. And a well-appointed outdoor patio makes hosting parties and gatherings with more friends that can fit inside your home easier than ever. Adding a patio creates a community space that will take the pressure off the host or hostess; outdoor gatherings are always more casual and more fun. With all the beautiful days Colorado is fortunate to have in a year, it would be a shame not to enjoy them.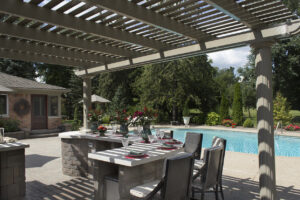 Beautify with a pergola.
If you haven't heard the term pergola, you've at least seen one. They make any outdoor space more beautiful by arching over the area, providing relief from direct sunlight and even a place to grow plants and flowers. A pergola comes in many styles, making it an ideal way to express your artistic taste within outdoor space. From the wood to the look of the structure, a pergola highlights the beauty of any deck or patio.
Swim year-round with an elegant enclosure.
Swimming is the best form of exercise, so why wait until the heat of spring and summer to enjoy it? With the addition of a swimming pool enclosure, your family can swim year-round. An enclosure can also protect from insects, debris and harmful rays even during warm summer months. Glass enclosures make an attractive accessory and are retractable when the weather is nice.
Cozy up in a hot tub.
Hot tubs are one of the finer things in life and enjoying a hot tub when it's cold and snowy outside is the definition of luxury. If you've been longing to install a hot tub, you'll want to enclose the area to enjoy it even when the mercury drops below freezing. The privacy is a bonus.