Experienced Stucco Installation for Homeowners in Denver & Surrounding Areas of CO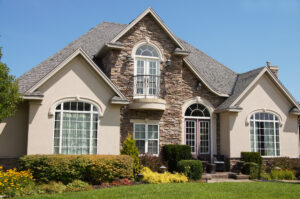 There's an ever-increasing demand for stucco in Denver and surrounding Colorado communities, and High West Siding & Windows is meeting that demand, delivering first class stucco applications. Whether you require a contractor for simple or complex repairs, or you need full installation services, you can count on our highly trained and experienced technicians to install a superior stucco product that will look beautiful on your home for years.
At High West Siding & Windows, we can install a variety of stuccos on homes in Denver, CO, including traditional cement stucco. However, we specialize in applying acrylic stucco with a synthetic elastomeric finish, which features acrylic copolymers that offer numerous benefits, including:
Flexibility – Unlike conventional cement varieties, a synthetic finish product is flexible and resistant to cracking during our extreme temperature shifts.
Water resistance – Synthetic stuccos are resistant to water, and as such, they can protect your home against water infiltration that can cause serious problems like mold or mildew.
Enhanced curb appeal – Our stuccos are available in different colors and textures, all with a finish that's easily maintained with just an occasional cleaning using soap and water.
When you choose High West Siding & Windows to install your new stucco, you will receive the services of a company that hires only the finest and most experienced construction professionals in the industry and is led by a third-generation contractor. Because we have 50 years of family history in the home improvement industry and are licensed, bonded, and insured, you can be sure we are dedicated to providing you with exceptional craftsmanship and will work tirelessly to ensure you are completely satisfied with our services. Additionally, our A+ rating from the Better Business Bureau is not only a testament to our high standards for customer service, but is also evidence of our commitment to the satisfaction of our many former customers.
For more information about our stucco installation services in Denver, CO, and all surrounding areas, contact High West Siding & Windows today.