VESTA STEEL SIDING
Vesta is a steel planking system inspired by the sleek aesthetic and weather-tight performance of shiplap. This bold and brave siding is born to turn heads. With eight interchangeable solid hues and four versatile and variegated woodgrains to choose from, styling options are limitless.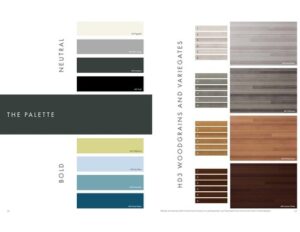 HAND CRAFTED
Designed to echo the veins and tones of natural wood, six unique and intricate hand-drawn panels make up every Vesta woodgrain color. All six planks are drawn to complement each other. Panels are distinct enough to create an impactful, signature look that is as beautiful up close as it is far away. Our tri-color paint application creates a multi-dimensional and naturally accurate look that's engineered to stay vibrant.
AMAZINGLY VERSATILE
Vesta's plank profile supports vertical and horizontal installation opportunities to accentuate any home or architectural style. You can even use it for a stylish Underdecking or Porch Ceiling. With Vesta, styling potential really is endless.
ENDURING BEAUTY
Vesta Steel Siding utilizes one of the strongest, most versatile, recyclable materials on our planet. This helps reduce your carbon footprint and helps safeguard against costly repairs. With low energy use and zero off-gassing or maintenance concerns, Vesta is an environmentally friendly siding solution.
HD3 WOODGRAIN
HD3 is our patent-pending, high definition, tri-color paint application that captures light, medium and dark woodgrain details, creating a multidimensional and naturally accurate look that's engineered to maintain its color for a lifetime.
VARIEGATED WOODGRAINS
Six unique and harmoniously hand-drafted prints make up each woodgrain to create a signature style that looks good up-close and at a distance.
BEAUTIFUL FOR GENERATIONS
SunMaster PVDF coating (Polyvinylidene Fluoride) is a thermally set paint system thatcreates a thick film barrier which provides excellent resistance against wear, fade and chalking keeping your siding beautiful for a lifetime.
FEEL-GOOD PERFORMANCE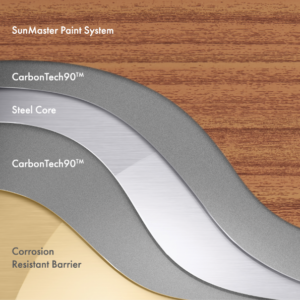 SunMaster Paint System
Not only does SunMaster keep your home looking good, it also provides excellent resistance against wear, abrasion and mold. SunMaster possesses low thermal conductivity, saving you from spiking seasonal energy bill costs and the desaturating effects of UV damage.
CARBONTECH90TM
CarbonTech90TM provides both a physical barrier and cathodic protection, preventing moisture and oxygen corrosion from ever having the opportunity to affect the strength of the steel core.
STEEL STRONG
From the fires of the hearth, steel is born to defend your home against anything Mother Nature can throw at it. With our Class A fire rating and rigorous testing, you can feel safe and at ease in your home knowing it's protected.
WEATHER TESTED
Engineered to provide triple-threat weather defense.
Long and narrow stacking seams form a flat, element-resistant surface.
Built-in breathing ducts promote air circulation between joint seams and behind the building surface.
Interlocking pieces form element-tested channels designed to divert moisture out and away from the surface seams.
Click Logo to Download Brochure