Our most premium collection of railing with the widest range of materials, designs and profiles — perfect for both residential and commercial settings.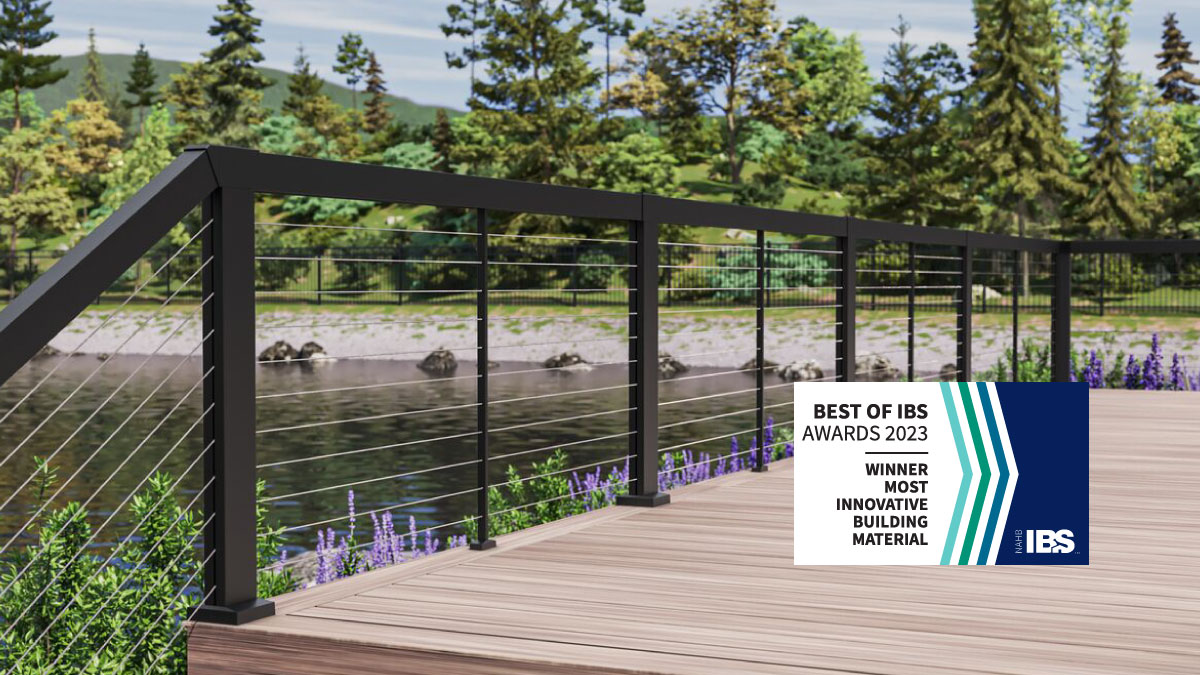 Versatility in design – RDI Railing
Offering mix-and-match options — RDI® vinyl, aluminum, steel or composite railing offers a variety of infills — from contemporary cable or glass infills, to more traditional round or square infills. And if you are looking for privacy, we have a modern privacy railing in a variety of colors that will keep you covered.
---
Transform Composite Railing has the look and feel of a wood railing, but provides superior resistance to moisture, mold and warping. Made with Composicore®— a material that contains no wood or organic fibers — Transform features a lightly textured, durable finish. Available with multiple top rail options and infill styles, including traditional square balusters, black round aluminum balusters and cable.
For a more unique product, you can mix and match Avalon Aluminum Railing or MetalWorks Excalibur Steel Railing with Transform posts and top rails to easily create a custom fabricated look that doesn't require custom work.
Does not warp, splinter or rot — easy to maintain with long lasting color retention
Mix and match with aluminum or steel railing for custom look
Hidden brackets provide a clean, finished look
Made in the USA with Transferable Limited Lifetime Warranty
~~~~~~~~~~~~~~~~~~~~~~~~~~~~~~~~~~~~~~~~~~~~~~~~~~
Rust-resistant Avalon Aluminum Railing provides style, versatility and safety. The pre-assembled rail panels feature ProLock® locking strips that are designed to hold balusters securely in place. The ultimate in customization, Avalon Aluminum Railing offers four top rail options, including an adapter piece* that easily creates a distinctive 3 rail design. Traditional square balusters, glass slats, cable infills and Decorative Screen Panels are available as rail infills.
*2-to-3 Rail Adapter sold separately.
Cable and glass slat infill options provide unobstructed views
Decorative Screen Panel infill option offers increased customization
Premium powder coating on aluminum framing
Assembled in the USA with Transferable Limited Lifetime Warranty
~~~~~~~~~~~~~~~~~~~~~~~~~~~~~~~~~~~~~~~~~~~~~~~~~~
MetalWorks Excalibur Steel Railing combines strength with a traditional and timeless style. Factory welded, fully assembled panels with hidden attachments and pre-attached brackets, allow for easy installation. Available in a traditional two rail design or in three decorative styles with textured matte black and hammered bronze finishes.
Decorative infill styles offer custom looks
MetalWorks Latitudes features unique horizontal rod design — provides open views
Premium powder coating provides maximum durability
15 Year Limited Warranty
~~~~~~~~~~~~~~~~~~~~~~~~~~~~~~~~~~~~~~~~~~~~~~~~~~
RDI Finyl Line Vinyl Railing is easy to install and is reinforced with strong aluminum — designed to provide added safety. Choose from a traditional T-Top style or Deck Top profile to add a deck board to create a flat "cocktail rail." Available with three baluster styles (Square, Turned or Black Round Aluminum), two pre-assembled infill panels* (Chippendale and Freeport) or with an option that allows our Decorative Screen Panels** to be used as infills.

Decorative Screen Panel infill option offers increased customization
Deck Top rail allows for deck board to be easily turned into a flat "cocktail rail"
Brackets conceal all fasteners — providing a clean, finished look
Made in the USA with Transferable Limited Lifetime Warranty
*Chippendale and Freeport pre-assembled infills available with T-Top profile only
** Decorative Screen Panels sold separately
~~~~~~~~~~~~~~~~~~~~~~~~~~~~~~~~~~~~~~~~~~~~~~~~~~
Titan Pro Rail Vinyl Railing — created with the installer in mind — features rail sections that assemble in minutes and metal-to-metal connections that are engineered for easy and safe installation. Panels are supported by structural steel posts clad in low-maintenance vinyl. Titan Pro Rail is ideal for residential and commercial applications.
Structural steel vinyl-clad posts provide superior strength and support
Hidden fasteners provide a clean, finished look
Code compliant and easy to maintain
Made in the USA with Transferrable Limited Lifetime Warranty
~~~~~~~~~~~~~~~~~~~~~~~~~~~~~~~~~~~~~~~~~~~~~~~~~~
Endurance Original Rail is a full vinyl railing system with everything needed to build a railing in one box. Endurance Original Rail offers dependable function with rails that are reinforced with aluminum stiffeners for added strength. A wide range of brackets are also available to meet a variety of installation needs.
4 infill options — including round aluminum balusters and glass slats
Hidden fasteners provide a clean, finished look
Aluminum stiffeners reinforce top and bottom rails for added strength and support
Made in the USA with Transferable Limited Lifetime Warranty