PetDoor
Built to Last, Weather-Tight Patio Pet Doors
We love pets! All our products are made in the U.S.A. to top quality standards. Pet doors are an excellent way to improve your pet's quality-of-life and provide the convenience of not having to let them in and out. If you're looking for an energy efficient solution to provide your pets more freedom and exercise – you've come to the right place!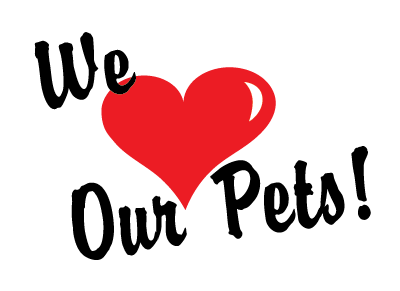 Do you get up at all hours to let your pet in or out?
Freedom for you and your pet is as simple as installing a patio door pet door! Installed with the "In-the-Glass" Pet Door, nothing has to change for you. Traditional pet door inserts typically reduce the door width by the width of the insert, and often mean people can no longer use the door! With our "In-the-Glass" pet door, the sliding glass door still fully opens and closes normally. So your pets can enjoy the luxury of coming and going as they please without interrupting you.
Here are some cutting-edge features of our high-quality, Made in the USA, Patio Pet Doors:
People and Pet Friendly – Your Pet has the freedom to come and go without your help!
Custom Fit – Patio Pet doors are custom-built to fit your Patio door and your Pet!!
Security Features – Totally Secure insert that is easy to use for both you and your Pet
Weather Tight! – Environmentally friendly flap seals tightly against the weather
Color & Insulation – Maintenance free! and come in these colors:

Price & Financing – Custom Patio Pet Doors come with a variety of choices and YES! FINANCING OPTIONS ARE AVAILABLE!!
Durability & Warranty – Patio Pet Doors Insert come with a Limited 15 year Warranty against failure. Click here for more Warranty info.
Energy-Efficient Doggie Doors in 5 Easy Steps!
The Patio Pet Door insert is a complete system. It replaces the glass in the sliding door panel of with an attractive low-profile pet door design. Its unique mounting system is built to the existing glass unit size and requires no special fasteners. We use insulated, energy efficient safety glass in the door and the flap is designed to magnet seal to reduce energy loss.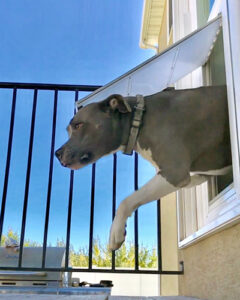 FAQ
Q: Which door is the best?
A: Our distinguished pet doors are highly rated in terms of quality. They are designed for optimum home security, pet safety, and energy-efficiency. Your pet can come and go without being hurt by the flap, and you can choose a double-flap option for additional weather resistance. Our doggy doors are easy to install and cheaper than electronic products, which operate through a sensor on your pet's collar that can be broken or misplaced.
Q: Where to install Dog Door?
A: You can choose a pet door for French doors or dog doors for sliding glass doors. We will replace the glass or the whole door with the pet door built right into the glass; or choose our pet doors that can be installed into window sashes.
Q: Will Cats use a Pet Door?
A: Absolutely! Cats are independent, curious creatures who enjoy being outdoors. They are natural explorers that benefit from physical activity and stimulation opportunities that engage their instinctual behavior. We offer a cat-specific panel window insert with various flap sizes, colors and adjustment ranges in addition to a removable pet door panel insert that can be used by cats, as well as small dogs.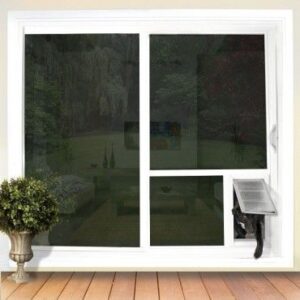 Q: Can you install Dog Door in Double Glazed Glass?
A: Yes. We provide several different types of glass for pet doors. They differ in terms of low emissivity visible light transmittance, fade transmission, and solar heat gain coefficient, giving you the ability to choose the style that best fits your needs and preferences.
Q: Can mice or other rodents come through the flap?
A: No. Our pet doors come with high-weather stripping, strong magnets along the edges, and stainless steel strikes that create a tight seal and eliminate gaps. Insects and small animals, such as mice and other rodents, do not have the strength to push through a pet door. Larger animals are unlikely to push against a door that is tightly sealed to the floor and frame. We recommend, however, that food and water not be placed near the pet door where they can be detected by unwelcome creatures.
Q: Can you put a Dog Door in a Window?
A: Yes! Our durable and sturdy windows inserts are perfect for cats and small dogs, PLUS no tools are required to install them into an existing sash window. With a highly insulating flap, they are designed to stay closed in winds up to 50 mph.