Durable Metal Siding for Homes in Denver, CO, and Surrounding Areas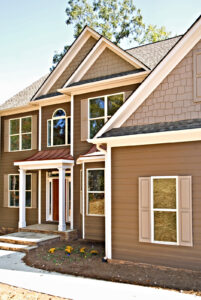 When it comes to installing metal siding on your Denver, Colorado, home, you can turn to the team of trusted professionals at High West Siding & Windows. At High West Siding & Windows, we want our customers to get the most for their dollar, and we are committed to helping them make the best decision for their home that fits their aesthetic and budgetary needs.
Metal cladding is often the best solution for our customers as it tends to be the most practical option in the harsh Colorado climate. For example, it's heavy-duty, galvanized construction will stand up against hailstorms and freeze-thaw cycles much better than wood or vinyl siding.
Metal siding from High West Siding & Windows has a wide array of other advantages, too, including:
Reduced maintenance requirements, meaning it will look great for years to come without the need for constant upkeep
Prevention of mold and mildew growth and insect infestations because our siding resists moisture
Improved insulation for your home, as the siding will reflect heat in the summer and trap it during the winter, lessening the stress on your HVAC unit
Increased safety and security thanks to metal's fire resistant properties; this siding may also help reduce your insurance premiums
Additionally, we know how important peace of mind is to our customers. That's why we provide a lifetime workmanship warranty for all of our whole-home metal siding installations, in addition to any manufacturer's warranty.
To find out more information about having metal siding installed on your Denver, CO, home, contact the experts at High West Siding & Windows today. And be sure to ask about our financing options.