Let There Be Light!
Four Benefits to Adding a Sunroom to Your Home

Picture yourself on a bright, cheery morning. You're sitting, enjoying the outdoor view.
The sun is shining and nature is unfolding before your eyes. You sip your hot beverage
and go back to your reading. In the background, soft music plays. The smell of fresh
baking wafts in the air. Peace and tranquility surround. There's no wind blowing papers
off the table. No flies buzzing about, examining your food or landing in your hair. It might
even be the middle of winter with newly-fallen snow on the branches or a cool spring
day with flowers peeking out from thawing ground. Yet you're warm, totally comfortable and entirely relaxed.
That's because you're sitting in your new TEMO sunroom and know it's the best investment you've ever made in your home. If you've considered adding onto your home for the sake of aesthetics and livability, a sunroom is a fantastic addition, and we're betting it will soon become a favorite part of the house for the whole family. Here are four key reasons why adding a sunroom to your home makes sense.
1. Your family will benefit from vitamin D and light in a sunroom.
We'll go with the most obvious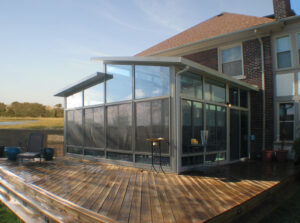 benefit first—all that beautiful
sunlight that will enter your new
sunroom and your life. Health and
wellness professionals routinely tout
how important Vitamin D is and how
we all need much more of it than
what we're getting with our busy,
work-oriented lives. In fact, according to Health-line, as many as 40% of American adults are deficient in Vitamin D. Adding a sunroom will allow you to get your recommended
Vitamin D without even subjecting yourself to the outside elements. Your body will
benefit just by sitting there! And experts have linked sunlight to fewer bouts of
depression and anxiety so the added mood benefits are worth the investment.
2. A sunroom is a great space for exploring creative hobbies.
Have you always been an artist, but you lacked the space to fill with canvases, tubes of oil paint, and stacks of inspirational fodder?

Or have you always wanted a music room, a place to put that baby grand piano inherited from your grandparents?
What about a cozy corner for
working on the next Great American Novel? Guess what? Sunrooms are the perfect place to pursue your passions and hobbies – or for other members of your family to pursue theirs. The natural light makes a sunroom a great spot for getting creative. Heck, you might discover a new talent just by basking in the ambiance.
3. A sunroom can serve practical purposes.
OK, so you aren't the artsy type; we get it. But a sunroom serves practical purposes,
too. For example, if your home office seems cramped in its corner of the kitchen and you need more peace and quiet, a sunroom is the perfect solution.
If the kids are leaving toy trucks and dolls in every corner of the
house, a sunroom can also make an inviting playroom. If the dog and cat are always underfoot when it's time to make dinner, a sunroom is the perfect spot for
them to go. And if you crave a place to fill with houseplants and cultivate a green thumb, the sunroom is your best bet.
4. Your home value will increase with a sunroom.
Perhaps the main reason you are considering a sunroom is that it will
increase the value of your home on the real estate market. Porches and other types of outdoor space are a great, but a sunroom is enjoyable year-round. And should the time come to move and sell your home, a sunroom can bring a sizable return on your investment—between 50 and 90 percent, depending on various factors. Weighing in on the conservative side of that figure, the 2017-2018 Home Remodeling Cost Guide estimates the return to be 50 percent of the money spent.