Creating an Outdoor Paradise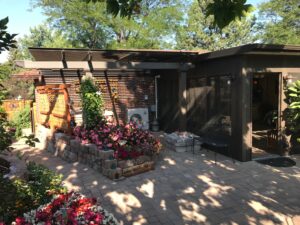 It's that great time of year – time to create a space in your backyard that feels like it is part of your home. How about an outdoor living room complete with sofas under an Italian-inspired pergola? Or when winter arrives you can be cozy and warm in a TEMO sunroom and still enjoy the beauty of the outdoors. With a little bit of imagination and some expert help, you can create an outdoor living space that flows seamlessly from your back door.
Adding a pergola or sunroom can also increase the aesthetic and monetary value of your home, and manufacturers now give you options that are both luxurious and durable for many years to come. Here are a few ideas you might consider as you begin dreaming about a relaxing outdoor meal, a party with friends of simply enjoying a cool summer or fall night.
Lighting
You can light up your pergola with strings of lights, hanging lanterns or even battery-operated candles. Professional lighting can add beauty to the garden space at night.
Furniture
Your pergola can be as stylish as your interior. Choose outdoor furniture that suits your style, anywhere from graceful wrought iron garden furniture reminiscent of Victorian English gardens to hefty cedar that creates that welcoming mountain vibe.
A nice addition is a swing bed that lets you sleep under the stars. Cover the bed with durable outdoor fabric for year round use. Or try a hammock, strategically placed, stretched from one side of the pergola to the other. There's nothing more inviting than an outdoor nap.

Greenery
Potted plants are an excellent addition, and hanging planters also will work well. This is where a gardener's thumb can turn hardscape and planting beds into an inviting courtyard. You want to take into consideration where the sun is coming from to determine which flowers and shrubs will thrive. In deep shade, consider ferns and hostas for variety. In sun, lush hanging baskets or stationary planters with trailing flowers like petunias make the biggest impact.
Curtains
Curtains are an optional item but they can add to the beauty and functionality of your pergola or sunroom. They provide privacy from a prying neighbor, and function as a movable screen. As far as fabric is concerned, look for washable cotton coated with waterproofing spray for a light, airy effect, or use heavy outdoor fabrics that won't blow in the lightest breeze. As with the rest of this project, the important thing is to be creative.
Are you ready to create your own personalized pergola? The experts at High West Siding and Windows have the experience and expertise to help you enhance the beauty and functionality of your home. To learn more, visit
https://highwestsiding.com
or call 719-522-0561 in Colorado Springs or 303-209-7711 in Denver. You can also visit our
Facebook
page to see some of our completed projects!