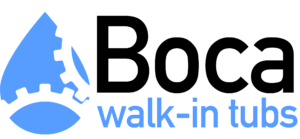 THE LOWEST STEP IN THE INDUSTRY!
We are proud to announce, High West is now offering BOCA Walk-In Tubs! We have teamed up with BOCA to offer you the Lowest Step Walk-In Tub in the industry. BOCA Walk-In Tubs manufactures high-quality​ ​custom walk-in tubs​ in the USA. With the most unique design in the world, their tub series allows for the lowest, safest, step-in threshold of any walk-in tub on the market. Boca Walk-In Tubs is a veteran-owned company offering a line of affordable customized walk-in tubs to suit a range of consumer requirements and bathroom layouts. Those who live with mobility or health issues can safely use Boca Walk-In Tubs. These tubs are manufactured in the USA and come with a lifetime guarantee.

According to the National Council on Aging, falls are the number one cause of injury for seniors. Boca provides walk-in tubs nationwide with designs to ensure anyone can bathe safely and comfortably.
Customers can order their tubs with a virtually limitless combination of safety and comfort elements. Boca's tubs minimize dangerous slips and falls and provide a therapeutic, comfortable bathing experience.
Standard Boca Walk-In Tub Features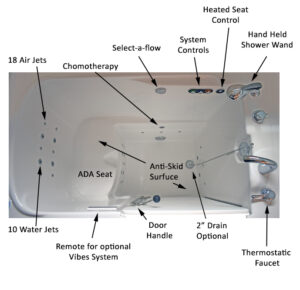 All Boca Walk-In Tubs come standard with the following features:
Special faucet to ensure a fast fill
Gravity-fed drain to ensure a quick emptying
Anti-skid material on the seat and floor to prevent slips
ADA-compliant seat height
Locking door that is leak proof, yet easy to open from sitting
Auto-drying lines to prevent mold and bacterial growth
Removable front panel for easy maintenance
Choice of left or right-hand entrance
Choice of white or cream color
Optional Boca Walk-In Tub Features
Customers can choose to create their personalized Boca Walk-In Tub from an array of optional features:
18 air jets
10 water jets (flow can divert from back to feet)
Bidet in the tub's seat
Chromatherapy (soft, soothing lighting)
Aromatherapy via scented beads in the tub's air system
Heated seat/heated back
Ozonator (keeps the jets clean)
Riser for hand-held shower
Paneling to create additional walls or shelving around the tub
Grab bars on the wall/tub to promote safety
Ultra quiet tub pump and motor
Choice of other colors (color matching available)
About BOCA Walk-In Tubs
Helping you to stay safe, independent and relaxed in your bathroom is important to us especially since most adults are choosing to age in place. The BOCA Walk-In Tub Team is dedicated to helping you achieve this goal.
They have manufactured walk-in tubs for over 14 years and have the only frameless walk-in tub on the market. The internal frame design allows us to offer the safest step in the industry with a two-inch step. BOCA Walk-In Bathtubs are constructed with marine-grade gel coat and fiberglass, and are constructed with upper marine grade gel coat and fiberglass. BOCA Walk-In Tubs are custom made to meet your specific needs. The most popular is the air and water/hydro therapy feature. Paired with their aromatherapy option is sure to provide a peaceful and relaxing bathing experience.
In addition to the standard size tub, they offer 6 other size options as well as shower packages.
BOCA also offers a lifetime warranty on ALL parts and components so you are covered for life!
BOCA Walk-In Tubs are proudly made in the USA.
BOCA Walk-In Tub Mission
Our mission is to create a better product at a price that is more affordable for the customer. With most walk-in tub users needing access to bathing due to mobility or health issues, we set out to design a walk-in tub that would enable customers to enter freely and not have the concerns they face with competing walk-in tubs.