4 Innovative Door Trends
to Beautify Your Home
You might consider a door to be nothing more than a method by which you enter and leave your house. If that's the case, you're missing out on an array of opportunities with the potential to make a door a beguiling welcome to the world.
According to J.R. Little, lead designer with High West Siding and Windows, the possibilities are virtually endless. Consider the various options at your disposal:
Multislide and Folding Doors
Manufactured by Win-Dor, these doors can fold down to a few or even a single panel, providing an unfettered view out the outdoors. They can take up an entire wall of your house, offering a movable wall between your living area and the deck at the back of your home.
"It opens up your living space and brings the outdoors in," says Little. "It combines your interior and exterior living spaces. These doors are great all year round. They give you incredible functionality in the spring, summer and fall and great views in the winter."
He adds that this type of door, made of a combination of aluminum and vinyl, is designed to enhance energy efficiency.
Wood Doors
LaCantina doors, a combination of extruded aluminum and "just about any wood species you can imagine," according to Little, provide innovative multi-slide and swing-door options. He points out that they can be made of pine, alder, oak, cherry and other wood options, adding that their major advantage is "the beauty of wood."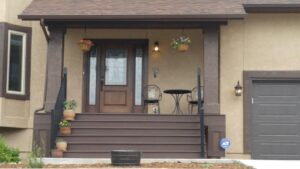 Maintenance-free Entry Doors
Another option would be to go with a fiberglass or steel entry door with composite frames and trim. The advantages here are that it will never deteriorate, has the best security rating in the business and offers a 10-year guarantee on its paint job.
They are available, pre-painted or stained, in just about any color and size you might want and with custom glass packages.
In addition, the doors come with commercial grade hardware, handles and dead bolts.
Sliding Patio Doors
Designed specifically for Colorado homes with glass that can be used at any altitude, the frame, sash and trim come in a variety of colors. The doors are manufactured by Verde.
How do you determine the type of door that will best fit your house? The look of your home will go a long way toward helping you decide which option to choose, says Little.
All these doors are available either as replacements or for new construction, he adds, and they work well for commercial as well as residential buildings.
Want to learn more about Innovative Door Trends that can bring the outside in, enhance the beauty and functionality of your home and offer maintenance-free living for decades? Get in touch with the experts. Give us a call @ 719-522-0561 in Colorado Springs or 303-209-7711 in Denver.
Check out our Facebook Albums